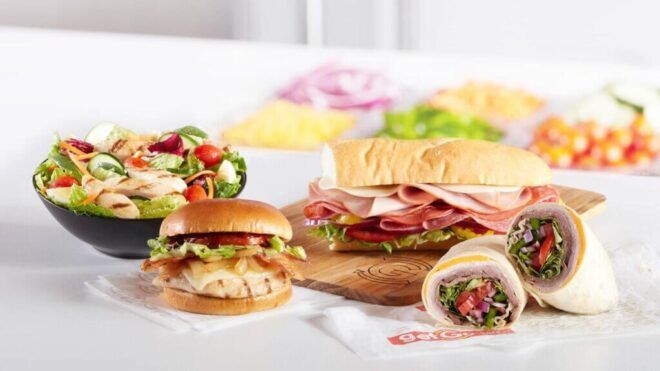 About GetGo
So we built a team of classically trained chefs to focus on making better food and they delivered. Our menu is loaded with creativity and choices. So you can customize anything to your cravings. You've got to taste these unique, signature subs, our big, juicy burgers and loaded wraps, eye-opening breakfast sandwiches and all of the sip-able goodness from our hand-crafted smoothies and espresso drinks. But, wait, it gets better.
We've got all-day breakfast, non-stop lunch, perpetual dinner and snacks around the clock. We've got 100% premium Arabica coffee blends brewed fresh. You'll find crisp, green salads. We've got treats both fried and frozen, pizzas with any toppings you like and some you've never considered like melty Philly cheesesteak. Heck, we'll put tots on your sub.
Our focus is on food made fresh to order but we've also got plenty of grab-and-go delights and other ways to make your day even better. Enjoy our surcharge-free ATMs, free WIFI, free air for your tires, a huge array of retailer gift cards, lottery tickets and, of course, gasoline at great prices!
We're not just different. We're GetGo.
About WEX
GetGo's fleet card partner is WEX Inc., a leading provider of corporate payment solutions. From its roots in fleet card payments beginning in 1983, WEX has expanded the scope of its business into a multi-channel provider of corporate payment solutions representing approximately 10 million vehicles, and offering exceptional payment security and control across a wide spectrum of business sectors. For more information, visit www.wexinc.com.